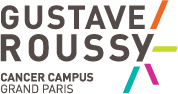 Oncostat is a research team of the Centre for Epidemiology and Population Health (CESP). More information on https://cesp.inserm.fr/en/equipe/oncostat.
Teaching
Book: Textbook of Clinical Trials in Oncology: A Statistical Perspective, 2019, CRC Press, edited by Susan Halabi & Stefan Michiels [link and supplemental material]
INSERM workshop 2017: predictionPenalized [link]
Software
R packages and code
SAS macros
Online prediction models
Prognostic model for triple-negative breast cancer patients treated with anthracycline-based chemotherapy based on clinicopathological factors and tumour infiltrating lymphocytes [link]

Described in: Loi S, Drubay D, Adams S, Pruneri G, Francis PA, Lacroix-Triki M, Joensuu H, Dieci MV, Badve S, Demaria S, Gray R, Munzone E, Lemonnier J, Sotiriou C, Piccart MJ, Kellokumpu-Lehtinen PL, Vingiani A, Gray K, Andre F, Denkert C, Salgado R, Michiels S.Tumor-Infiltrating Lymphocytes and Prognosis: A Pooled Individual Patient Analysis of Early-Stage Triple-Negative Breast Cancers. J Clin Oncol. 2019 Mar 1;37(7):559-569. [DOI].
Others
Supplementary Material of Publication
Brard C, Le Teuff G, Le Deley MC, Hampson LV. Bayesian survival analysis in clinical trials: What methods are used in practice? Clinical Trials. 2017; 14(1):78-87 Supplementary material (Excel table)
Under development
Drop the losers with historical control group [link]